LAW OF ATTRACTION BLOG
Do you know that you have the power to attract more things to be grateful for in your life just by expressing your GRATITUDE for what you already have?
We live in an Abundant Universe where everything we have ever wanted is available to us. When you live in this awareness, the Law of Attraction works with you to bring you more of what you want.
"Be thankful for what you have; you'll end up having more. If you concentrate on what you don't have, you will never, ever have enough." – Oprah Winfrey
It's your positive vibrations that allow you to be in alignment with a Higher Power. That Higher Power wants your life to be joyful and abundant but you must choose your words and thoughts wisely to produce positive results.
There is a great deal of scientific evidence about just why GRATITUDE is so powerful a thought and emotion. Dr David Hawkins, a well known psychiatrist and spiritual teacher, worked in the field of testing 'Emotional Frequency'.
He used muscle testing as a means of determining where a person or an emotion resided on his 'Map of Consciousness'.
You can find this in his book 'Power Versus Force'. He ranks LOVE as a very high vibration and while he did not specifically test for Gratitude, other research indicates GRATITUDE  is a higher vibration than Love.
In Dr Masaru Emoto's book 'Hidden Messages in Water' he demonstrates the emotions by viewing and capturing the crystals water formed using his customized microscopes.
One of his most profound findings is that GRATITUDE forms more perfect crystals more than LOVE.
He tested water crystals all around the world by using spoken and written words, and music – heavy metal and classical. His results were all the same. Where there were words of GRATITUDE, love and kindness, positive encouraging thoughts the water formed beautiful crystals.
Where there were words or thoughts or worse yet – ignoring the water altogether the crystals were misshapen and in some cases no crystals formed at all!
When you spend more of your thoughts on higher vibrational frequency thoughts around Gratitude, Love, Joy, Peace, Prosperity, Fulfillment and Abundance you naturally raise your vibration.
MOVE INTO GRATITUDE PROCESS
So if you find yourself slipping into some negative thinking (stinkin' thinkin' aka mindfrick) take some time to go through this simple  process:
OBSERVE YOUR MINDSET
Are you feeling 'Lack or Abundance'?
Is your vibe ' Positive or Negative'?
Where is your 'Energetic Frequency' at?
RESET YOUR THOUGHTS TO PRESENT TIME GRATITUDE
Ask yourself "What am I grateful for right now?"
Shift your focus – find the opposite positive emotion to replace your negative one
Shift your energetic vibration to a higher frequency
ALLOW GRATITUDE TO FLOW IN AND OUT
Open up your 'Allowing Valve' – remove doubt
Focus only on the fact that there are miracles every single day
Move into a higher Energetic Frequency
About the Author, Dana J. Smithers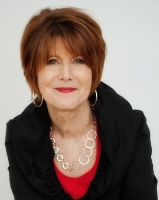 Dana J. Smithers is on a mission to inspire and empower women entrepreneurs around the world. At 50 she left a high-paying corporate job and, as a solopreneur over the years launched 3 businesses earning a 6-figure income.
As a Certified Law of Attraction Trainer she teaches you how to use LOA tools to build a business by setting your intention getting clarity, focus and creating an action plan. As a Certified Sacred Gifts Guide she helps you discover what makes you feel on purpose and fulfilled. As an Emotion Code practitioner Dana knows how to release your trapped negative emotions that have built up over the years and are now holding you back from moving forward. She invites you to sign up for her enewsletter for tips, insights and inspiration and her FREE ebook 'The POWER of your WORDS' at Empowered Women in Business. She looks forward to making a real connection with you on www.FB.com/coachdanasmithers. Her NEW Law of Attraction GRATITUDE JOURNAL is available on www.Amazon.com. or if she is speaking at an event you can purchase a signed copy from her!