LAW OF ATTRACTION BLOG
I LOVE MY WORK! I LOVE MY CLIENTS!
Are you super excited about the services you offer and the testimonials that you receive from your clients? I am, and sometimes I even blush a little!
Now some people think that when you use testimonials for your marketing purposes that you are 'bragging' and in their world, that's a 'No-No'. Well, in my world it's a 'Hell Yes' as my empowered entrepreneurial friends and I like to say!
Testimonials are a great way to:
1) promote your clients when they give you permission (always important to ask)
2) allow you to be acknowledged for helping them achieve the results they were seeking from you
3) let other people know about the services that you offer
What Recent Clients are saying…
About my 8 Week Business Development Mentoring Program:
Dana's guidance & structured support, combined with several emotion code sessions, were instrumental in helping me to: 
(1) get clear on my goals (2) stop procrastinating  (3) move from a mindset of victim to victor (4) create an awesome business plan (5) get a kick-ass domain name for my new business venture (6) finally finish my book, Philosopher Dad!
Thank you, Dana. You are proudly mentioned in my book's acknowledgements!
​Tanya MacIntyre, Positive Psychology Coach​ & host of The Good News Only radio show
About two sets of Emotion Code Sessions:
"I loved working with Dana!  I was first drawn to her for her work with the Law of Attraction, Emotion Code and Sacred Gifts – I just knew that we spoke the same language!  After our initial consultation we decided that some Emotion Code sessions would offer the best support for me and my business at this time.
There was always a lightness to our sessions.  Lots of laughter, wonderful insights, and I left each session feeling more inspired.  Within a short period of time I could feel things opening up in me and a flow of energy return.  This was immediately reflected in my business with new opportunities coming my way.  Thank you Dana, I look forward to working with you again!"
Krista Brown, Wisteria Acres Retreat Centre & Wisdom of The Horse Coaching practice
Every session with me is based on the tools and techniques I provide as a Law of Attraction Trainer Coach!
About the Author, Dana J. Smithers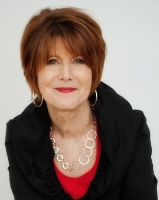 Dana J. Smithers is on a mission to inspire and empower women entrepreneurs around the world. At 50 she left a high-paying corporate job and, as a solopreneur over the years launched 3 businesses earning a 6-figure income.
As a Certified Law of Attraction Trainer she teaches you how to use LOA tools to build a business by setting your intention getting clarity, focus and creating an action plan. As a Certified Sacred Gifts Guide she helps you discover what makes you feel on purpose and fulfilled. As an Emotion Code practitioner Dana knows how to release your trapped negative emotions that have built up over the years and are now holding you back from moving forward. She invites you to sign up for her enewsletter for tips, insights and inspiration and her FREE ebook 'The POWER of your WORDS' at Empowered Women in Business. She looks forward to making a real connection with you on www.FB.com/coachdanasmithers. Her NEW Law of Attraction GRATITUDE JOURNAL is available on www.Amazon.com. or if she is speaking at an event you can purchase a signed copy from her!