LAW OF ATTRACTION BLOG
THE DIFFERENCE BETWEEN YOUR 'INTENTION' AND YOUR 'ASK'
Several people have asked me what the difference is in my Law of Attraction GRATITUDE JOURNAL between
'INTENTION' and 'ASK'
In this video you will hear my distinction. Remember that this is your journal so you get to decide what 'Intention' means to you, and what 'ASK' means to you. The most important consideration is that if FEELS RIGHT to you! The Law of Attraction knows that you are 'attractable' i.e. able to attract, so write down what it is you desire to manifest.
For me the main difference is this:
When I am setting my 'INTENTION' I am intending to do something. In the video I give the example of intending to do 5 short videos like this over the next week.
When I get to the 'ASK BELIEVE RECEIVE' page in the journal, I am going to ' ASK'  a higher power, Spirit, God, Source, Universe AND the Law of Attraction to help me find ways to achieve the 'INTENTION'. My ASK could go like this: "How can I create even better videos for those people I serve, so that they learn even more of what they need to learn to create happy, joyful lives?" *
*You may notice I'm using some NLP (neuro-linguistic-programming) here by presupposing that I can create, that I have already created great videos and people are learning from me. It keeps the vibe high!
About the Author, Dana J. Smithers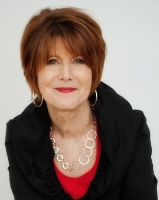 Dana J. Smithers is on a mission to inspire and empower women entrepreneurs around the world. At 50 she left a high-paying corporate job and, as a solopreneur over the years launched 3 businesses earning a 6-figure income.
As a Certified Law of Attraction Trainer she teaches you how to use LOA tools to build a business by setting your intention getting clarity, focus and creating an action plan. As a Certified Sacred Gifts Guide she helps you discover what makes you feel on purpose and fulfilled. As an Emotion Code practitioner Dana knows how to release your trapped negative emotions that have built up over the years and are now holding you back from moving forward. She invites you to sign up for her enewsletter for tips, insights and inspiration and her FREE ebook 'The POWER of your WORDS' at Empowered Women in Business. She looks forward to making a real connection with you on www.FB.com/coachdanasmithers. Her NEW Law of Attraction GRATITUDE JOURNAL is available on www.Amazon.com. or if she is speaking at an event you can purchase a signed copy from her!